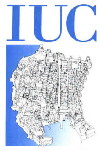 COURSE MATERIALS
REGISTRATION
ACCOMODATION
International Course

MIND AND BRAIN III

AUDITION, LANGUAGE, COMMUNICATION
A b s t r a c t s u b m i s s i o n:
Abstract format (Times):
title - bold, capitals, 14;
authors - bold, 12;
affiliations - italic, 12;
emails - bold, 12;
body - up to 500 words, 10,
figures/tables acceptable; not to exceed 2 pages.
Abstract submission:
by March 25, 2003,
by E-MAIL ONLY to selma@brain.hr
Abstract file format:
.PDF
All accepted abstracts will be presented as 15 minutes ORAL presentations.
PowerPoint presentations are suggested although transparencies are acceptable as well.