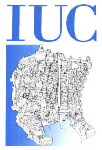 International Course
MIND AND BRAIN IV
IMAGES OF THE WORKING BRAIN


A b s t r a c t s u b m i s s i o n:
I. Participants:

Abstract submission is encouraged but not required.



Abstract format (Times):
title - bold, capitals, 14;


authors - bold, 12;


affiliations - italic, 12;


emails - bold, 12;


body - up to 500 words, 10,
figures/tables acceptable; not to exceed 2 pages.


NEW: Abstract submission:
by JUNE 15, 2004,


by E-mail ONLY to selma@brain.hr


Abstract file format:
.pdf
All accepted abstracts will be presented as (12+3) minutes ORAL presentations.
II. Lecturers:

In addition to abstract(s) of their lectures,
during the month of June, 2004, no size limitation,
the lecturers are invited to add a suggested reading list
and provide selected papers as pdfs
to be posted as Course materials.


III. ALL:

After the Course all PowerPoint presentations
will be posted during a two week period
as password protected material for Course participants only.
Lecturers and participants with accepted abstracts are asked
to bring their PowerPoint presentations on a CD-ROM and give them to the Mind and Brain IV secretary during the registration.